BWI Shuttle To and From Salisbury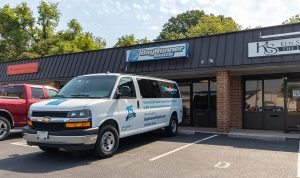 Daily departures from:
BayRunner Shuttle Corporate HQ
547C Riverside Drive
Salisbury, MD 21801
Meet your BayRunner shuttle outside our corporate headquarters located in downtown Salisbury.
Book your one-way or round-trip shuttle service to BWI Marshall Airport, BWI MARC/Amtrak station or the Baltimore Greyhound bus station.
We are located directly behind the Hebron Savings Bank and next to St. Francis de Sales Catholic Church. We are easy to reach from all areas of the Delmarva Peninsula.
Passengers are required to be at the pick-up point for the desired shuttle at least 15 minutes before departure to ensure an on-time departure.
From Salisbury to Baltimore
Salisbury Departures from the Bayrunner Shuttle office - 547C Riverside Drive
Leave
Salisbury
Arrive
BWI Marshall Airport
Arrive
BWI Rail Station
Arrive Baltimore
Greyhound Bus Station
Frequency
5:20 AM
7:30 AM
7:35 AM
Daily
7:20 AM
9:30 AM
9:35 AM
Daily
9:20 AM
11:30 AM
11:35 AM
12:00 PM
Daily
11:20 AM
1:30 PM
1:35 PM
2:00 PM
Daily
1:20 PM
3:30 PM
3:35 PM
Daily
3:20 PM
5:30 PM
5:35 PM
6:00 PM
Daily
5:20 PM
7:30 PM
7:35 PM
8:00 PM
Daily
From Baltimore to Salisbury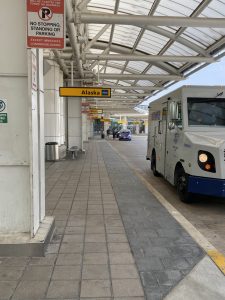 Departure Locations
BWI Departures from Departures Level, Outside doors 10-12, Outer Curb
Rail Station Departures from BWI Airport Rail Station - 7 Amtrak Way
Baltimore Greyhound Departures from Downtown Bus Station - 2110 Haines Street
Leave Baltimore
Greyhound Bus Station
Leave
BWI Marshall Airport
Leave
BWI Rail Station
Arrive
Salisbury
Frequency
8:30 AM
8:40 AM
10:40 AM
Daily
10:30 AM
10:40 AM
12:40 PM
Daily
12:10 PM
12:30 PM
12:40 PM
2:40 PM
Daily
2:10 PM
2:30 PM
2:40 PM
4:40 PM
Daily
4:30 PM
4:40 PM
6:40 PM
Daily
6:10 PM
6:30 PM
6:40 PM
8:40 PM
Daily
8:10 PM
8:30 PM
8:40 PM
10:40 PM
Daily
Rates (All Rates are One Way)
NUMBER IN PARTY
1 PASSENGER
2 PASSENGER
3 PASSENGER
EACH ADDITIONAL
$81
$131
$174
$45
Connections to Western Maryland are available. Call our office to book continuing space on a shuttle.
BayRunner Shuttle Corporate HQ